Maintenance - Construction - Manufacturing
Everybody from nuclear power plants to guys with broken lawnmowers! That is our tongue-in-cheek reply to the question "Who are your clients?". Regardless of project size, it is your project and it is important to you. Consequently, it is important to us. 
We stock: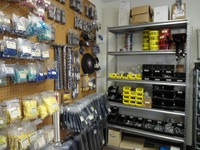 Materials
Aluminum, Alloy 20, 18-8, 316  & 410 Stainless Steel Steel, Silicon Bronze, Nylon, many exotic alloys
Socket Products
Hex Cap Screws, Socket Cap Screws, Button Socket Screws, Set Screws, Pipe Plugs, Stripper  Bolts
Screw Products
Machine, Sheet Metal, Thread Forming, Thread Cutting, Self Drilling in a variety of head styles
Washers of all types
Specials, Standard, MS, AN, Conical, Lock, Interal & External Tooth, Square, Bevel Washers
Nut Products
Hex, Hi-Nuts, Castle, Slotted, Weld, Keps, Locknuts, Coupling
Anchor Products
Wedge Anchors, Sleve Anchors, Nail Anchors, Tapcons, Drop-in, Lag & Machine Bolt Shields
Bolt Products
Hex Head, 8.8 & 10.9 Grade Metric Hex Bolts, Plow, Machine, Carriage, Lag, Eye, U-Bolts, Toggle, Flange, Anchor
Safety Equipment
Safety Glasses, Gloves, Caution Tape, Danger Tape
Tools
Hand Tools and Power Tools by Makita
Extension Cords, Cutting Oil, Saw Blades, Electrical Tape, Taps, Dies, Drill Bits, Hole Saws, Grinding Wheels
Miscellaneous items include
Wire, Wire Connectors, Hose Fittings, Pipe Hangers, Wire Nuts, Cable/Wire Rope, Chain, Paint, Hangers, Beam Clamp, Tie Down Straps,Strut Products & Accessories
We are an approved AVK product distributor.