At Flowood Fastener and Supply, while we are surely working to build a strong customer base, we are more committed to building strong customer relationships. Our clients have projects to complete and businesses to run. Their success is good for our community, the economy, and for us. So, we're not trying to be the biggest, but we do want to be the best! Let us partner with you to get the job done - for all of us!
Together, the Flofast partners have over 100 years experience servicing the needs of manufacturing, construction, and maintenance clients. Not surprisingly, we understand the expectations of our customers.
Getting the supplies they need
Getting them when they are needed
Getting them at the lowest possible price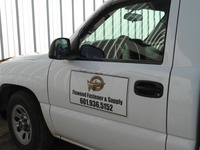 Our record for customer retention tells us we're doing a good job of meeting those expectations and we're pretty proud of that.
We carry a wide range of fastener products suitable for everything from nuclear power plants to residential lawnmowers. Tell us what you need and, if it's not in stock, we'll let you know how soon we can have it for you. We also carry safety supplies, hand tools, and miscellaneous fittings and connectors. 
Flofast serves clients in central Mississippi and beyond. We provide delivery in the local area (approximately 50 mile radius) and work to arrange reliable and timely shipping for those customers farther away.